"
It was a flurry of conversational blows and, as Marshal Varuz had pointed out earlier, his defense was weak.
"
Teeth and Fingers
is the seventh chapter in
The Blade Itself
.
Chapter Summary
Edit
Another sparring session is underway between Collem West and Jezal dan Luthar. Feigning tiredness, West baits the younger and quicker fencer into overcommitting his attack. Then he comes on strong, and before Jezal knows it he's on his back. Lord Marshal Varuz shakes his head in disgust at falling for West's simple ruse, and the weakness of Jezal's defence. He adds even more leg strengthening to his training.
As they take their leave, West relates how if he hadn't won The Contest, as a commoner, he would never have risen as far as Major. If the noble-born Jezal could win, he would surely rise as high as Lord Chamberlain, High Justice, or even Lord Marshal. Jezal snidely points out the exception of Sand dan Glokta.
They are interrupted by a messenger ordering West to a briefing with Lord Marshal Burr to discuss the likely war in Angland with the new King of the Northmen, Bethod. While Jezal pines for war and a chance of advancement, West remembers his somewhat troublesome sister is in town. With duty calling, West enlists Jezal's help in entertaining his sister.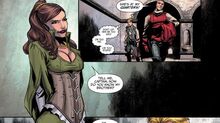 Major West's sister Ardee, turns out to be far more than Jezal bargained for. She twists him around her finger with her beauty, clever comments, and light touches. They spent a pleasant afternoon together seeing the sights of Adua.1 Jezal, who usually takes advantage of foolish common girl, is completely disarmed by her and reduced to stammering of well-known historical facts. At the end of their walk, they run into Sand dan Glokta.2 Ardee knows him well from visits to their home in Angland, where he used to fence with her brother and always win. Glokta seems genuinely touched by her sympathy for his health.
Characters
Edit
Locations and Terms
Edit
References
Edit
There's some nice world building in their casual dialog including Harod, Bayaz, and the Master Maker.
Jezal clearly represents who Glokta once was, a brash fencer of great skill from a noble family.
Ad blocker interference detected!
Wikia is a free-to-use site that makes money from advertising. We have a modified experience for viewers using ad blockers

Wikia is not accessible if you've made further modifications. Remove the custom ad blocker rule(s) and the page will load as expected.