---
---

The First Law is a fanstasy series composed of a trilogy and three stand-alone novels set in the same world, written by British novelist Joe Abercrombie.


---

---

"
Fearlessness is a fool's boast, to my mind. The only men with no fear in them are dead, or the soon to be dead, maybe. Fear teaches you caution, and respect for your enemy, and to avoid sharp edges used in anger. All good things in their place, believe me. Fear can bring you out alive, and that's the very best anyone can hope for from any fight. Every man who's worth a damn feels fear. It's the use you make of it that counts.
"

–Logen Ninefingers, Before They Are Hanged
Kanedias, also known as The Master Maker, was the second son of Almighty Euz. After Euz vanquished the Demons and close the gates to The Other Side, he granted a gift to his three eldest sons – the three pure Disciplines of Magic. Kanedias was granted the gift of the Art of Making, the ability to shape worldly materials into otherworldly artefacts. It is somewhat reminiscent of incredibly advanced technology. Kanedias made his home in what would become Adua, and built the House of the Maker. After the death of Juvens, Bayaz gathered eleven of the twelve Magi and went to war with him, putting siege to his House. In the end, Bayaz alone confronted Kanedias on a bridge high in his tower. Kanedias threw his own daughter off the bridge to her death, but Bayaz then cast him down in turn.
---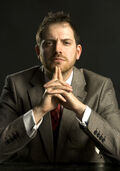 Joe Abercrombie is the author of the fantasy series The First Law. He was born and raised in Lancaster, England, and has worked as a freelance film editor.

Who is your favorite point of view character in the First Law trilogy?