---

---

The First Law is a fanstasy series composed of a trilogy and three stand-alone novels set in the same world, written by British novelist Joe Abercrombie.


---

---

"
Fear is a good friend to the hunted, it's kept me alive this long. The dead are fearless, and I don't care to join them
"

–Logen Ninefingers, The Blade Itself
Ishri, or the East Wind, is an Eater in The Hundred Words, and one of the most dangerous and powerful disciples of the Magus Khalul. Yulwei recognises her as even a match for him or Bayaz. Ishri is a dark-skinned woman with perfect white teeth and black eyes, who always appears as if from nowhere, dressed in bandages from neck to toe. Then melt away just as easily. She works widely throughout the Circle of the World, in Styria during the Years of Blood, and The North during the Battle of the Heroes.
---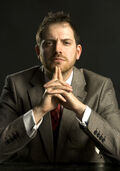 Joe Abercrombie is the author of the fantasy series The First Law. He was born and raised in Lancaster, England, and has worked as a freelance film editor.

Who is your favorite point of view character in the First Law trilogy?