---

---

The First Law is a fanstasy series composed of a trilogy and three stand-alone novels set in the same world, written by British novelist Joe Abercrombie.


---

---

"
It always amazes me, how swiftly problems can be solved, once you start cutting things off people.
"

–Sand dan Glokta, Last Argument of Kings
The Battle of the Heroes, or Second Northern War, is the war of 584 between The Union and The North, culminating in the climactic three day battle near Osrung, around the eponymous ancient standing stone formation on a hilltop. On the first day, the Northmen spring a well-planned attack that sweeps the Union vanguard south of the river all across the line. The second day sees the Union make some gains at great cost, capturing the south of the village of Osrung, and a bridgehead at the Old Bridge in the west. The third day was by far the bloodiest day of the battle. After disasterous cavalry charge, and a failed attempt to capture the hilltop. Lord Marshal Kroy calls an end to hostilities.
---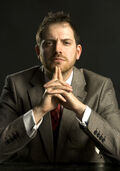 Joe Abercrombie is the author of the fantasy series The First Law. He was born and raised in Lancaster, England, and has worked as a freelance film editor.

Who is your favorite point of view character in the First Law trilogy?