---

---

The First Law is a fanstasy series composed of a trilogy and three stand-alone novels set in the same world, written by British novelist Joe Abercrombie.


---

---

"
People have often accused me of inconsistency but i feel that i have always, at any given junction, done the same thing. Exactly what I pleased.
"

–Nicomo Cosca, Red Country
Named Men are the top of the social scale in the clan-based warrior society of The North. These are Northmen who have earned great respect in battle. They might lead groups of Carls on the field, or act as scouts or raiders, sometimes far in the enemy's rear. Most earn truly badass names, like Shama Heartless, the Bloody-Nine, or Black Dow. Sometimes, however, they gets pegged with an unfortunate nickname, such as Forley the Weakest or Caul Shivers, who fell in a freezing river during a raid.
---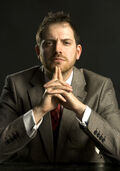 Joe Abercrombie is the author of the fantasy series The First Law. He was born and raised in Lancaster, England, and has worked as a freelance film editor.

Who is your favorite point of view character in the First Law trilogy?