"
The magic leaks out of the world. That is the set order of things. Over the years my knowledge has grown, and yet my power has diminished.1
"
First of the Magi
is the ninth chapter in
The Blade Itself
.
Chapter Summary
Edit
Malacus Quai is dying from the hardship of his journey. Faced with the choice to leaving Quai to die, Logen Ninefingers leaves behind his pack and cookpot2, and sets out for the Great Northern Library forty miles away with Quai on his back. As the pair nears the trail markings that lead them to the library, Quai becomes lucid for a moment. He gives a rambling warning to the Northman that speaking with Demons is forbidden3.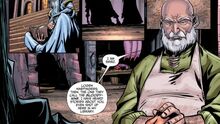 Shortly afterwards, they arrive at the library. Once inside, Logen approaches a man that he assumes is Bayaz; dressed all in white, with a long beard, a hook nose, and white hair spilling from under a white skull-cap. However, this is the head servant of the library, Wells. At which point, a man steps forward that Logen had assumed was a butcher. Bayaz seems about sixty, bald with close cropped beard, and a stony hardness4 and air of command. He seems is surprisingly unconcerned for Quai's health and intensely focused on Logen.
However, Logen's introduction to the Magus is short lived, when a messenger from the gate arrives to announce the arrival of Prince Calder, youngest son to the Bethod, King of The North. Logen and Calder seem to know each other well. Calder demands that Bayaz attend his father and recognize his dominion over the North. Bayaz laughs at the petty kingling and with a wave of his hand chokes off his air. Releasing him before he expires, Bayaz propels Calder out of the library, humbled but no less angry.
Bayaz casually turns back to Logen, and invites him to take his leisure within the library.
Characters
Edit
Locations and Terms
Edit
References
Edit
The Spirits are dwindling, and magic is leaking out of the world. What does it all mean? Six books in, I'm not sure we know.
"Fare you well, old friend." I'm still wondering what happened to that pot.
The first mention of the title of the series, The First Law.
An early hint that Bayaz is more than he appears.
Ad blocker interference detected!
Wikia is a free-to-use site that makes money from advertising. We have a modified experience for viewers using ad blockers

Wikia is not accessible if you've made further modifications. Remove the custom ad blocker rule(s) and the page will load as expected.