"
It was a dwelling fit for a hero of Logen's stature—two big sticks holding a load of damp branches over a hollow in the dirt.
"
No Choice at All
is the third chapter in
The Blade Itself
.
1
Chapter Summary
Edit
Logen Ninefingers is sleeping in a tiny cave near the peak of a passage through the mountains in The North. He wakes in a panic, fresh snow having sealed the cave entrance. Fearing he may never escape, he finally digs himself out into the brilliantly blue dawn.
As he eats the last of his food, he reminisces about his home and his past: how he used to talk of tactics with Rudd Threetrees and hunted with The Dogman; his violent past like the killing of Shama Heartless in a duel at Carleon; about his father, wife, and children; and of the time he flushed with rage when he and Dogman found his village destroyed and family killed by the Shanka. It would be a fitting end for Logen, known throughout The North as the Bloody-Nine, to die violently. But, say what you will about Logen Ninefingers, he carries on, and so he does—southwards, out of the mountains.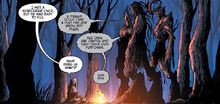 As he descends he finds a deer, and kills it with his small knife for dinner. Settling down for the night around a small fire, Logen light up his chagga pipe. A few puffs later, Logen is visited by three Spirits.2 To hear them tell it, maybe the last three Spirits in the world. They offer him three pieces of knowledge: news of his own survival; that Bethod is still making war and has given himself a golden crown; and a Magus of the Old Time is searching for Logen in the moors to the south. With no direction in his life, Logen finds the Spirits have given him a purpose. He will head south to seek this Magus.
Characters
Edit
Locations and Terms
Edit
References
Edit
This chapter is another layer to Logen's character. Clearly a man with a reputation, a man who has songs sung of him, with a violent past.
Six books in, I'm not sure we know much about what Spirits are.
Ad blocker interference detected!
Wikia is a free-to-use site that makes money from advertising. We have a modified experience for viewers using ad blockers

Wikia is not accessible if you've made further modifications. Remove the custom ad blocker rule(s) and the page will load as expected.