Sand Dan Glokta
Comments

6
63pages on
this wiki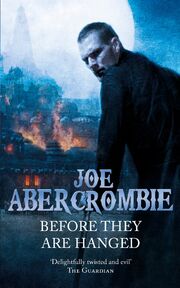 Inquisitor Sand dan Glokta is a character created by Joe Abercrombie for The First Law Trilogy. A former cavalry officer in The King's Own, Glokta was considered a rising star, especially after winning The Contest. He was a frequent womaniser and a possible future candidate for Lord-Marshal. This was brought sharply to a close when he was captured, imprisoned and tortured for two years by the Gurkish during The Gurkish War, one of the few prisoners to survive for so long in such a condition. This has left him severely crippled, most notably in his left leg, which is prone to spasms of intense pain, possibly the result of muscle-death or simply severe, repeated breakages. He has half his teeth, but where the teeth were removed above, they were left below, so that Glokta cannot eat solid foods. He now serves as an Inquisitor for the Union's Inquisition, torturing information from perceived traitors and anyone else who they think knows something. He is aided in this by Practicals Severard and Frost.
Glokta is bitter and whimsical towards life in general, often mocking his own condition, and views steps as his greatest enemy and chairs as his greatest ally. He often asks himself why he tortures others as he was tortured, rarely coming up with a satisfactory answer but carrying on regardless. Through the series, his ruthless nature and sly ability to outthink his opponents means he survives many encounters, but commits many morally questionable acts, from wholesale torture to ruthless slaughter. Perhaps Glokta's greatest asset is his lack of fear - at no point does Glokta act based entirely on fear, while others around him often scramble, making hasty decisions in the process. 
The Blade Itself
Glokta's story starts with him torturing a member of the Guild of Mercers, Salem Rews, who supposedly dodged the King's taxes. Superior Kalyne reports this to the Arch Lector, being friends with him, and the Arch Lector tells Glokta to further investigate this issue. He finds out all the orders came directly from Kault, head of the Guild, who tells him to look for treachery in the bank Valint and Balk. Glokta then meets Bayaz, first of the Magi, who Arch Lector Sult wants him to watch, sure that he is a fake.