"
His finger clutched, clutched at nothing. He was beginning to fall. He let go a little whimper.2
"
The End3
is the prologue chapter in
The Blade Itself
.
1
Chapter Summary
Edit
The story begins with Logen Ninefingers4 alone in the harsh hinterlands of The North, having been split up from his crew5 of Named Men. He is being chased through the forest by a horde of Shanka6; a bestial, wild creature reminiscent of orcs or trolls, often referred to as a Flathead. He manages to kill one with his axe, but it gets caught in its skull, leaving him unarmed7. When he is attacked by a second Shanka, the pair grapple, eventually dragging him over a cliff edge.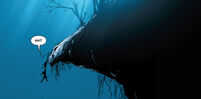 Logen is left hanging from a tree root over a deep gorge, with the creature clinging to his leg. With nothing but hard choices, Logen decides to take a leap into the river far below, rather than die on someone else's terms8.
Characters
Edit
Locations and Terms
Edit
References
Edit
These chapter summaries are based largely on Justin Landon excellent reread over at TOR.COM, which can be found here.
This is the first indication that we're reading something different. Logen is tough. He just split a bad guy's head open with an axe. And yet he's… whimpering? Oh yes. There will be whimpering.
The title of the chapter is a long-term foreshadowing that doesn't pay-off until the last chapter of the third book, The Beginning.
Logen Ninefingers is many people's favourite character, along with Sand dan Glokta who we'll meet in Questions.
Logen's crew are Rudd Threetrees, The Dogman, Tul Duru Thunderhead, Black Dow, and Forley the Weakest. Are they really all dead?
The Shanka are introduced here as wild enemy that calls to mind the adversaries of classic fantasy of yore — orcs and trolls. Are they going to play a prominent role throughout the series? Well, no. They're a red herring, and play a relatively minor role.
Another indication of Abercrombie's style; the fights are vicious and brutal, and people live or die as much by luck as skill.
Spoiler alert! Guess what else? Logen isn't dead.