"
You have to be realistic.1
"
The Survivors
is the first chapter in
The Blade Itself
.
Chapter Summary
Edit
Logen Ninefingers wakes on the river bank, surprised to be alive, coughing heartily to clear himself of the water in his lungs. Quickly realizing that without boots, a coat, or any other sundry items, he will not last long in the dead of winter. Despite his fear that the Shanka may be lying in wait for him at the camp, he has little choice but to return to it.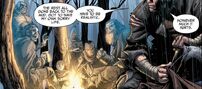 Logen arrives at the camp and finds it empty. He laments the loss of his friends—Threetrees, Dow, Dogman, Forley, and Grim—who now must surely be dead from the Shanka attack. Although he sees no sign of their corpses, he decides to strike out alone over the High Places mountains; just him and his cook pot.
Characters
Edit
Location and Terms
Edit
References
Edit
One of Logen's numerous homespun catch phrases that echoes throughout the series, like "Say one thing for Logen Ninefingers, say he's X", "You can never have too many knives", and "I'm still alive."
Ad blocker interference detected!
Wikia is a free-to-use site that makes money from advertising. We have a modified experience for viewers using ad blockers

Wikia is not accessible if you've made further modifications. Remove the custom ad blocker rule(s) and the page will load as expected.